K and D both attended Carlisle Job Centre in November 2022 and signed onto Cumbria Youth Alliances 'Outreach Project' working in partnership with the DWP Youth Hub program – this program was enabled through DWP Flexible Support Funding.
K and D's main barrier to employment was where they lived, as they resided in a small village 10 minutes outside of Wigton. They had no access to their own transport, so they relied on the local bus service. However, their only bus was a service that ran through to Carlisle. The service was irregular, meaning K and D would often have to catch early buses to attend any appointments/interviews and would have to wait around for periods of time in Carlisle until the return journey.
Other barriers included their lack of interview skills and having no Wi-Fi connection at home. In order for K and D to access support from Cumbria Youth Alliance, we hired out a space in a local venue for one-to-one sessions and paired this alongside telephone appointments.
It soon became apparent the only real option for work was live-in roles. We began to focus our job search on this, specifically the hospitality industry. K was happy to apply for front of house roles where D was looking for kitchen or grounds work roles.
We started our work by creating a current CV and a general cover letter for K and D which they would be able to adapt to fit each role they applied for. We also did some work looking at how to write a successful application form and worked on improving their interview skills throughout the sessions.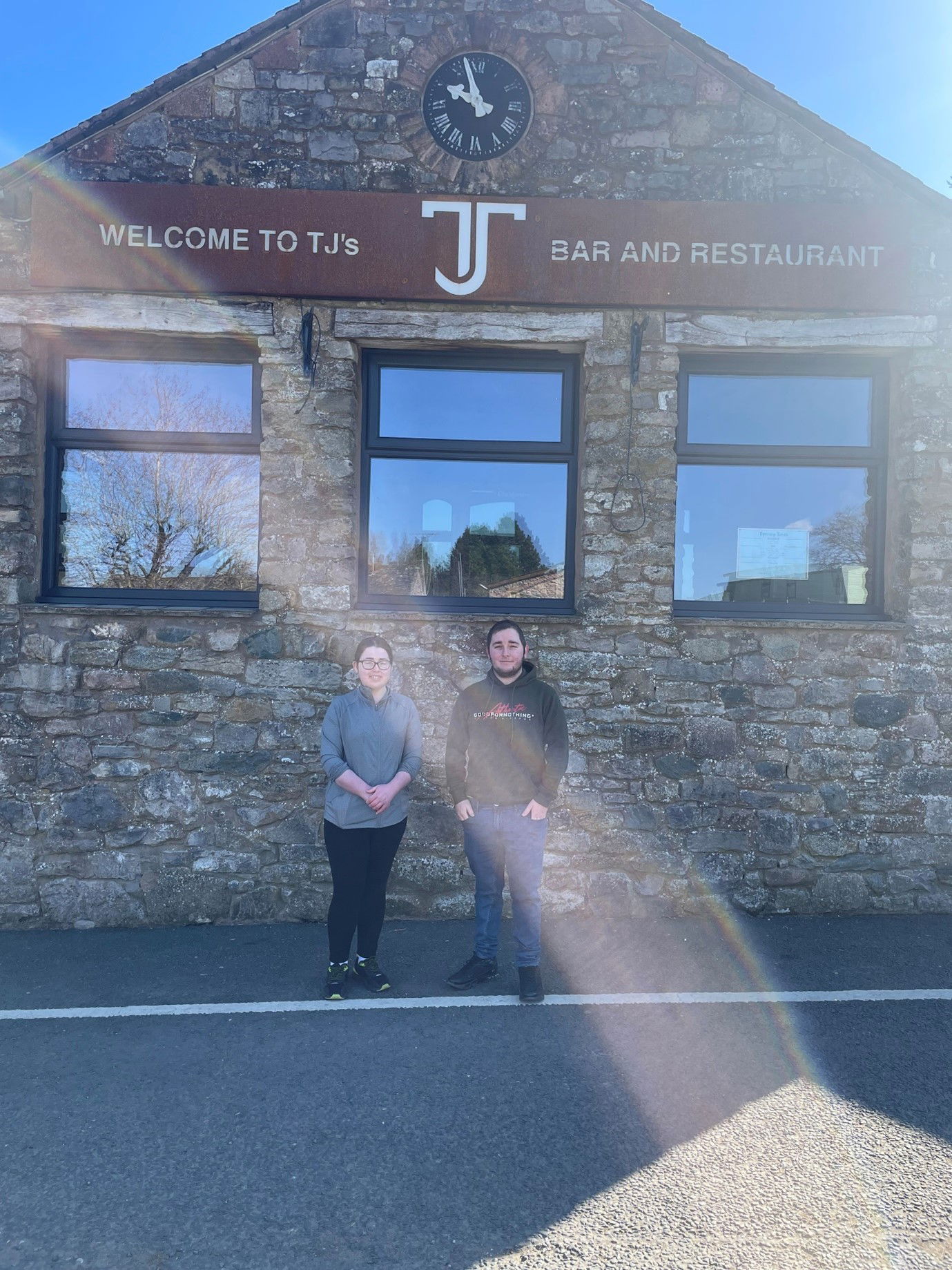 Once this was established, the focus of our sessions became job searching and submitting applications. K and D attended 1:1 sessions in Kirkbride and Carlisle and engaged well throughout. K and D attended interviews for roles in Carlisle, Keswick, Ambleside, and Pooley Bridge; another positive of this is they demonstrated they were successfully able to plan their own travel and manage their time efficiently.
K and D attended an interview in March at TJ Bar and Restaurant in Pooley Bridge. They both felt the interview had gone well and were optimistic. Within a few days, they were both offered roles, starting in April 2023. K works as a waitress and D as a Kitchen Porter. The role also provided them with a well-equipped and spacious caravan to live in, overcoming the isolation and access barriers they experienced because of where they lived. As a result, this role also provides them with the opportunity to experience living in a new area and develop independent living skills.
Since starting their roles, we have visited K and D, who both commented that:
"The jobs going really good thanks!" and told us "We went into Pooley Bridge the other day and it was lovely and there is an hourly bus service into Penrith we have used!"
When asked what CYA had supported them with, they said:
"When you helped update our CV's we started to get more interviews. You also helped improve our interview skills."
A huge congratulations to K and D! CYA wish you the best of luck with your new roles!